Plagiarism is a serious concern. It is an unethical act that comes with mild to serious consequences. Plagiarism can affect a writer, student, blogger, and people from different domains dealing with text every day.
Because of millions of web pages present online, it can be challenging for a writer to write unique content. Accidental and semantic plagiarism can occur without intention and can cause issues for the author.
In this post, we will discuss what plagiarism is. its consequences, how you can avoid it, and what are the best rephrasing tools available that you can use.
Plagiarism and Consequences
Plagiarism is copying or duplicating someone's work or ideas without crediting the original author. It is often committed by writers that write blogs, articles, and other forms of copies online. And the students that have limited ideas or skills when it comes to writing assignments, theses, and writing projects.
You may not face a lawsuit when found guilty of plagiarism but it comes with other consequences. It is considered unethical in terms of academia. You may fail in your subjects. get suspended as a penalty. Or other penalties you may face varying from institution to institution.
In terms of a professional career, you may lose your job if found accused of plagiarism and lose your reputation which may cause problems when finding great opportunities. These consequences are avoidable.
There are certain ways that can help you write fresh and unique content. When writing any piece, you should ensure extensive research to broaden your knowledge. And when you are done with your first draft, make sure to do ruthless editing. This will ensure your content's quality and when you are done, before submitting, make sure to check your paper in a plagiarism checker tool.
If you find a percentage of plagiarism in your content, you need to make sure it is removed before uploading or submitting it. You will have to rewrite all the sentences, and paragraphs that are plagiarized which can take a lot of time. This is where the paraphrasing tools can help.
Paraphrase tools also known as paraphrasing tools, rewording tools and sentence rephrases are tools that paraphrase any type of content using AI-based algorithms and generate unique, plagiarism-free, and compelling content.
These tools are available online and due to the array of options available, it can be hard to choose which one is the best. So, we gathered three of the best and different paraphrase tools that you can use to fix plagiarism in your content.
3 Best paraphrasing tools to Fix Plagiarism in your content
The user's demands and uses vary widely and so it can be hard to conclude the best paraphraser. So, to help you make a decision, we have selected three different tools that offer many similar and distinctive services that may help you in your writing.
1.   Sentencerephraser.com
The first on the list is sentence rephrasing and as the name implies, it paraphrases sentences individually. When you put in a text with multiple sentences in it and you want some particular lines to be changed to achieve a perfect copy, this tool is for you.
While all the other rephrases paraphrase the whole text you put. These sentence rephrases help students by allowing them to rephrase one sentence at a time. And generates four different results for each sentence that the user can choose from.
Al-Text(sentencerephraser.com)
Using this tool is easy, thanks to its user-friendly UI. All you need is to enter the text you want to paraphrase and move the cursor to a sentence. It will show you the rephrase button when you click. It generates four different results with different synonyms and sentence structures.
If you are stuck and don't know how to rewrite sentences in different ways to eliminate grammar. And vocabulary issues or to craft a new unique sentence, this tool will surely help you.
2.   Plagiarism-fixer.com
Plagiarism is a serious threat to your grades and reputation. It can ruin your grades and can damage your career a lot. Unfortunately, plagiarism is not always intentional. It can occur in any text you write and you may not have an idea about it.
The best way to make sure your text is free of plagiarism is to check your final draft with a plagiarism checker. If you find any traces of duplicate content, you should ensure that all the traces of plagiarism are removed before you upload or submit your work.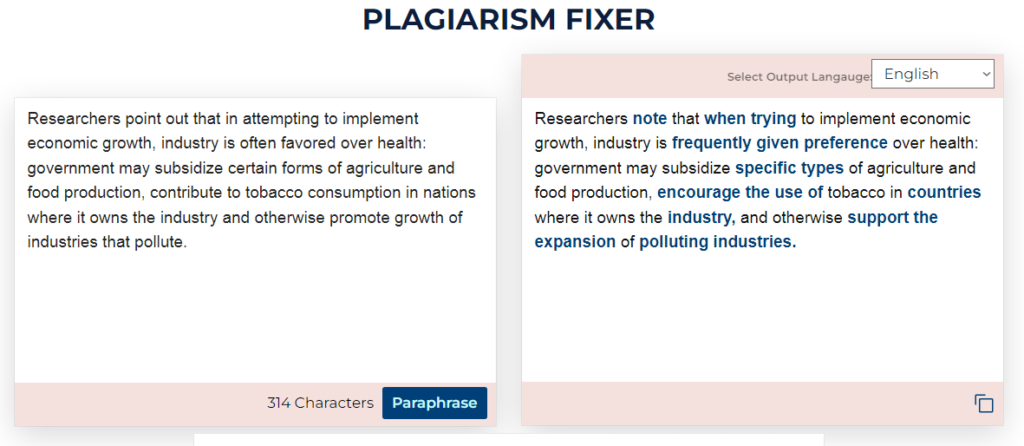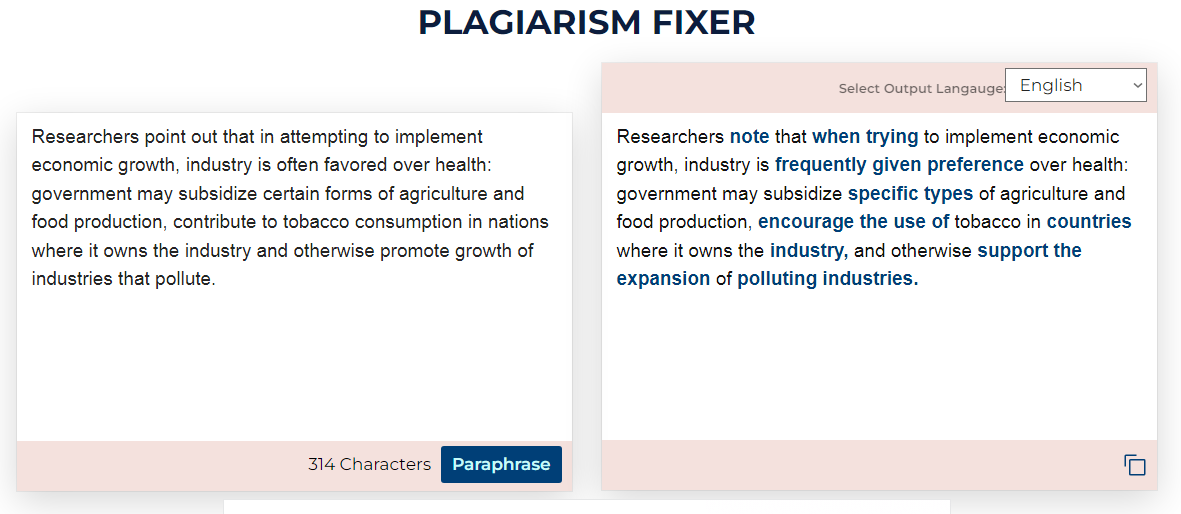 Al-Text(Plagiarism-fixer.com)
Paraphrasing can help you here but it requires some skills and effort. If you are drained from writing a well-researched copy and want your work to be done without any hassle. This tool will help you in removing any plagiarism in your text.
Just type in or paste the text in the tool that contains plagiarism and you will get completely unique text in seconds. Make your text stand out in every way!
Plagiarism changer is another tool that checks all the marks when it comes to helping students in writing their academic papers. This tool is designed mainly to remove plagiarism from a text. But it has the ability to paraphrase any text to make it unique, compatible, and readable.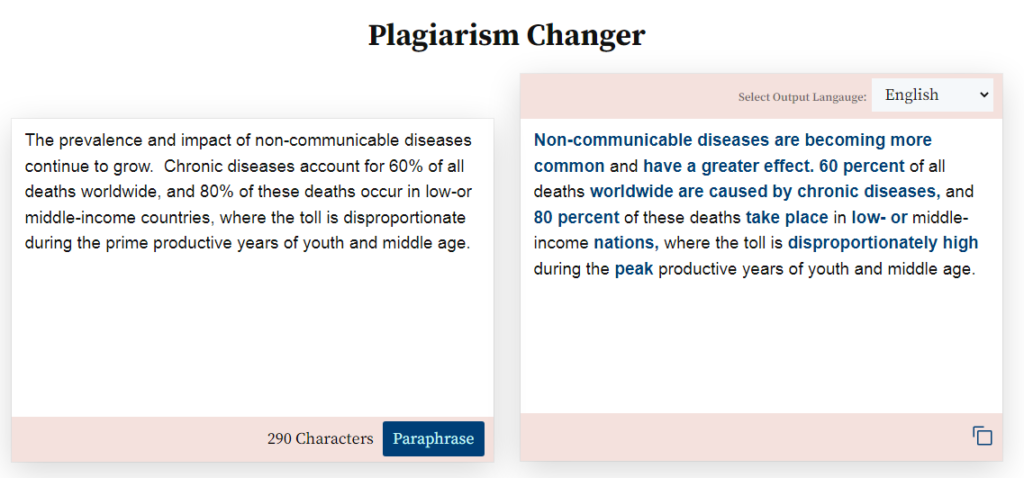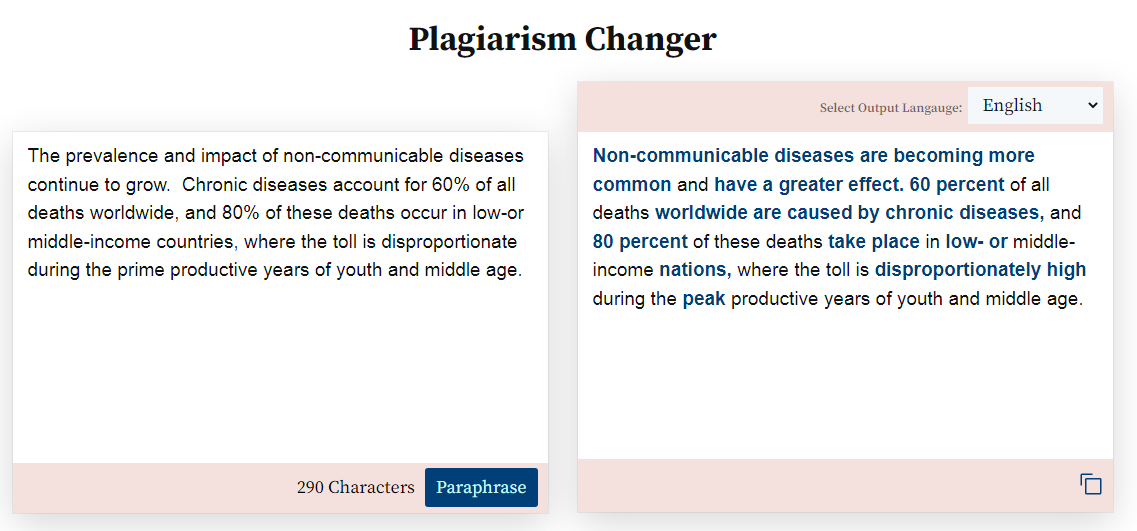 Al-Text(Plagiarism-changer.com)
This tool can help you in the following ways:
It can bring clarity to the text
Remove plagiarism
Generate fresh content from outdated content
Remove grammar mistakes
Improve readability
Gets you unique content
Apart from all the benefits it offers, this tool is free to use. This means as a student you do not have to reserve some extra money for paid tools online. All of the features that other paraphrasers offer. This tool has it all.
Final words
If you find plagiarism in your text, do not take it lightly. And ensure that all the traces of plagiarism are removed before you present your text in front of readers. Paraphrasing tools can help you remove plagiarism quickly so you do not have to waste time and effort on it. You can either paraphrase the whole text or parts of the text that contains plagiarism using this tool. You can choose any of the above-mentioned tools and get your work done in no time.